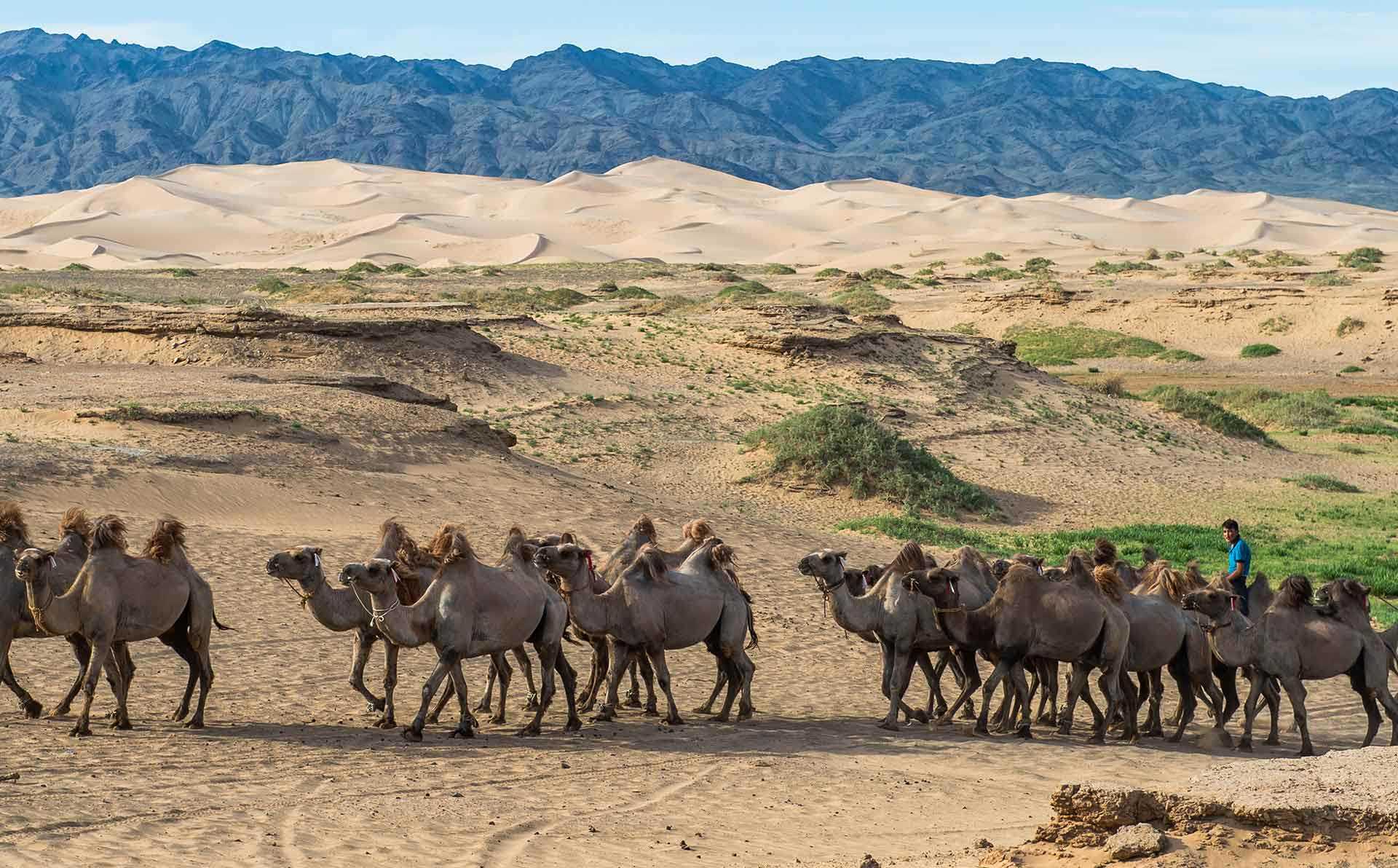 Gobi the most famous destination in Mongolia
Gobi the most famous destination in Mongolia
Attractions in Gobi Dessert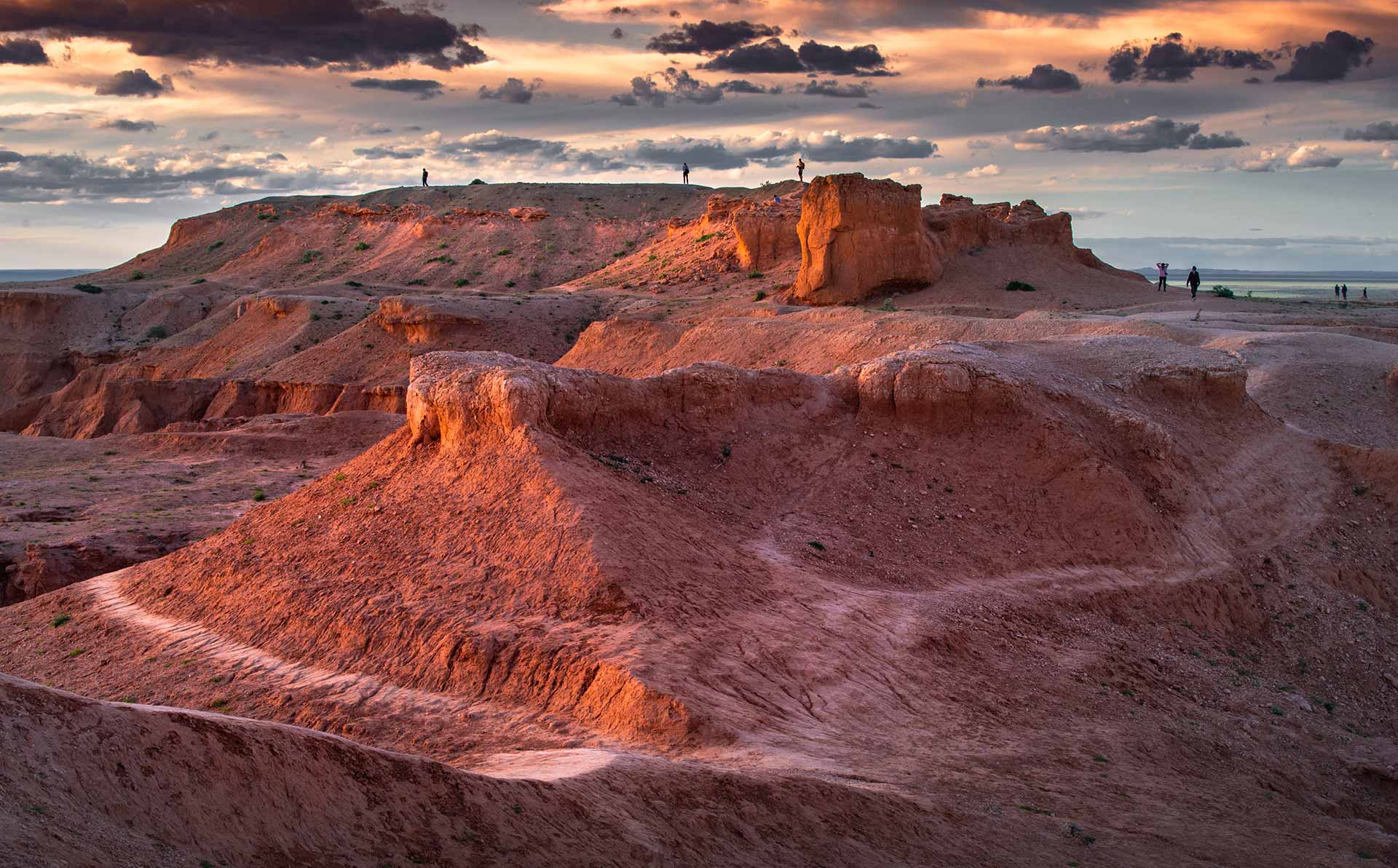 Mongolia's Flaming Cliffs – Bayanzag
Flaming Cliffs are located deep in the southern Gobi Desert in Omnogobi Province and form part of the Gobi Gurvan Saikhan National Park. They are considered a popular stop-off point attraction of Mongolia. The escarpment at Flaming Cliffs, along which the Upper Cretaceous sediments crop out, comprises a morphological boundary between the desert steppe zone, over the escarpment, and the desert basin floor, below the cliffs. It consists of alternating sandy and calcareous beds. The Flaming Cliffs arenaceous sediments are almost invariably reddish-orange in color. All these red beds made the cliff look so red in sunset; resulted the derivation of its nickname Flaming Cliffs by Roy Chapman Andrews. No matter what time you visit there it will look beautifully red. But if you want to witness what Roy Chapman Andrews saw in early 1920s, you can revisit the Cliffs around sunset. This attraction always to be included in Mongolia travel package.
Yolyn Am Ice Field
Yolyn Am Ice Field, more commonly referred to as Yolyn Am, is a deep and narrow gorge that fills with glacier ice in the winter period, and it is located in the Gurvan Saikhan Mountains that are stretching in the southern part of Mongolia. It's also one of best destinations in Mongolia. The name derives from an Old World vulture, the Lammergeier, which is called Yol in Mongolian, thus the valley is sometimes translated to Valley of the Vultures or Valley of the Eagles. Being also part of the Gobi Gurvansaikhan National Park, Yolyn Am can be found in the Zuun Saikhanii Nuruu sub-range of the larger mountain range, and also there is a very small part of the Gobi Desert that reaches this amazing Mongolian feature. Mongolia is very vast and there are many places that deserve to be seen in person, the Yolyn Am Ice Field is certainly among the top that will captivate everyone who dares to have an unique Mongolian adventure, whether if it is in the winter time to see the ice field, or some other colorful season.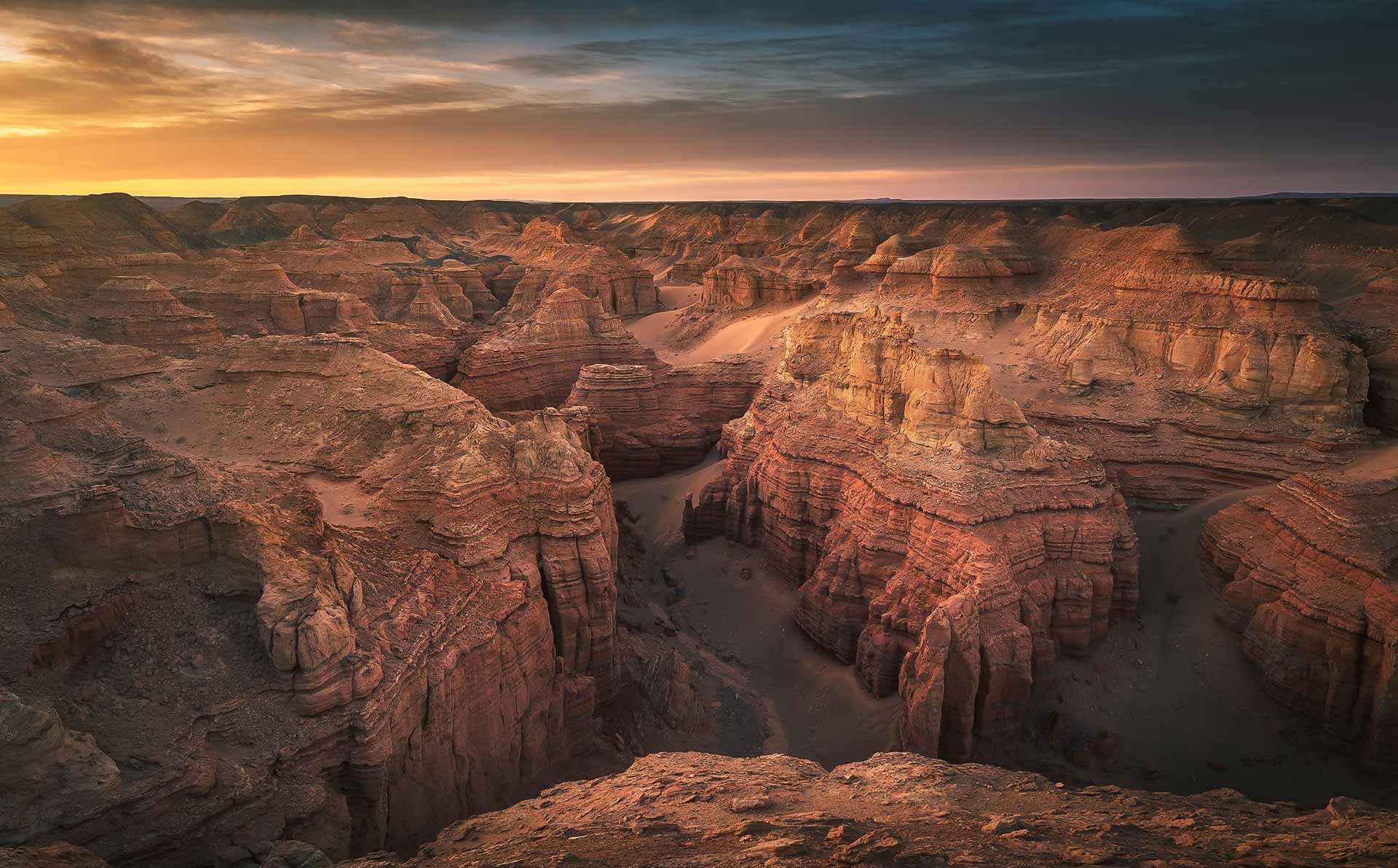 Tsagaan Suvarga – Gobi Waterfall
The scarp of Tsagaan Suvarga is located in the south west of the Dundgobi province. It is a sheer slope that was an ancient seabed that featured a sedimentary structure that was created over millions of years. It is interesting to see this slope because it faces toward eastward of the sun. It also appears to be the ruins of an ancient city from far distance. That is why it was called the "White stupa". Because it faces eastward, when there are storms, it is common for animals to fall off and die. This formation is over 60m tall at its highest point and continues for an impressive length of 400m. The stupa rises to the sky at an angle of 90 degrees. After pouring rain, the torrent of water that flows down the stupa looks like a massive waterfall. There are 2 famous caves that lie 7 km to the east of the white stupa. They are called Khevtee Bosoo agui (Lie and Stand Cave). They are titled "lie and stand caves" because some parts of the cave are very small, you can only crawl but other areas are very large so you are able to stand up.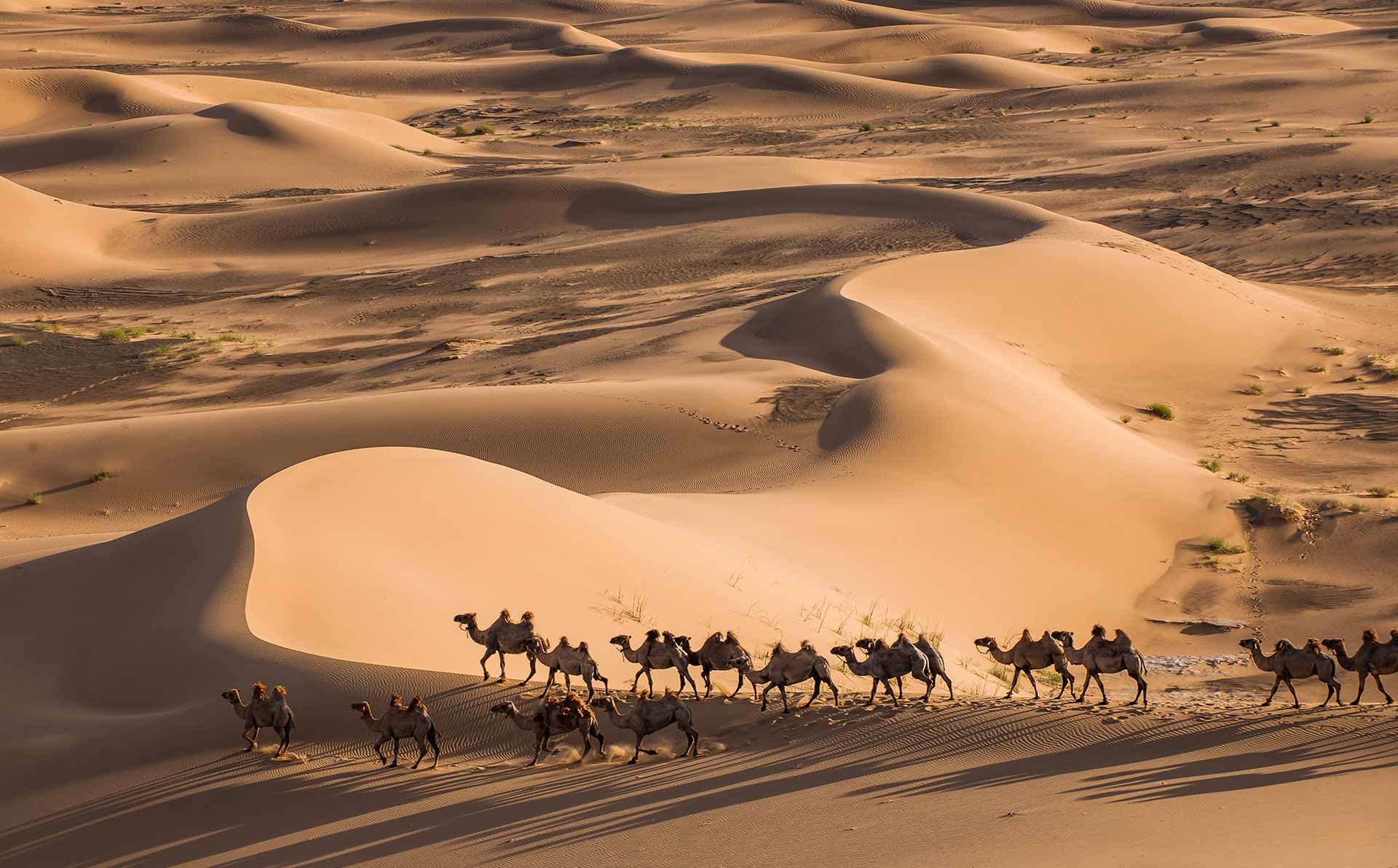 Khongor sand dune – Nature's song of sand
Khongor sand dune is one of the largest and most spectacular sand dunes in Mongolia standing as high as 200 meters above the ground, 7-8 km wide and 180 km long. The dunes rise up between Altai Mountains to the south, and stream and oases on the north side with lush green. Climbing the dunes is breathtaking, not only for the view at the top. It surprises climbers that the sand dunes make a singing sound while you climb. Khongor sand dunes are also knows as singing sands. Once you are up on the top of sand dunes, the sound of people or animal is heard clear, the people and the cars in the slope of the dunes will look like a tiny bug. Many tourists are visiting to the Mongolian Gobi. The sand dunes make you feel extraordinary comfort and infinite peace. A number of tourists are visiting to the South Gobi to see a sunset and a sunrise from the top of the sand dunes. You will have a great experience visiting to the Mongolian Gobi Dessert.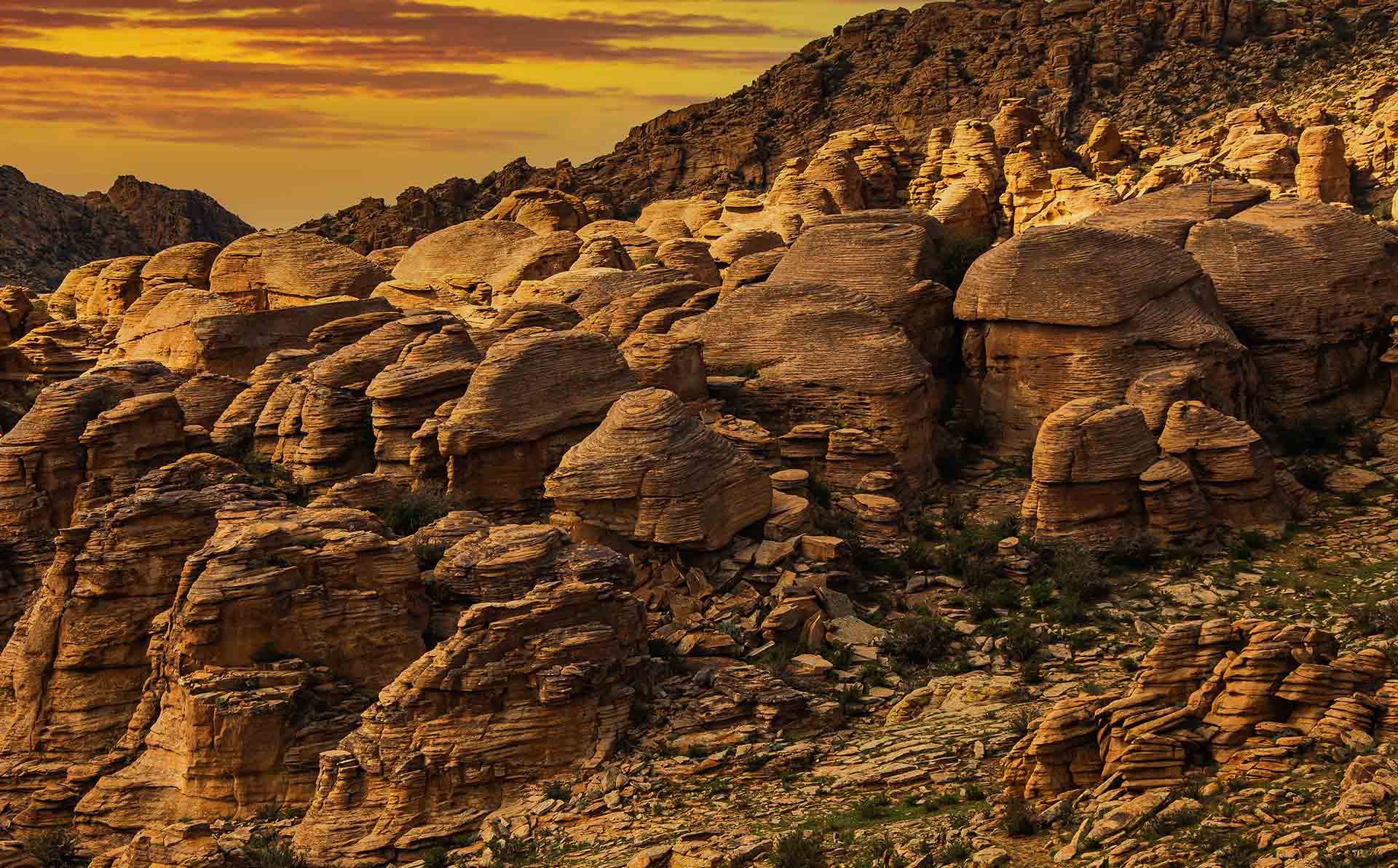 Ih and Baga Gazriin Chuluu – Forest of Giant Rocks
One of the Nine Wonders of Dundgobi aimag is Baga Gazriin Chuluu, an exquisite rock formation that looks like dried curd stacked on top of each other.
Two mountains with unique formations that one would not expect to see in the Gobi and plains stretch throughout the northwest and eastern parts of the aimag. Upon better inspection, people can notice that the formations of Ikh Gazriin Chuluu are generally vertical, while those of Baga Gazriin Chuluu are horizontal. Various oddly shaped big rocks are common in the area. Located to the northwest of the aimag center, the natural attraction is found 37 km northwest of Delgertsogt soum. Aside from ponds and springs, ancient tombs and burials as well as cave paintings and various statues and monuments have been found in the area. One of them is a boulder called 'Ger Rock' that has many inscriptions, including an inscription of a person holding onto two ibexes tied together with a rope that traces back to the late Bronze Age. Near the Ger Rock boulder, there is also an inscription of two large deers on a tall boulder, which attracts the attention of anyone visiting the site. The inscription of the deers is 170 cm in length and 90 cm in width.
Activities you can do
• Ride Two-humped Bactrian Camels. 90% of camel in the world are one humped camel. And other 10% of camels are two humped Bactrian camels. Mongolia is one of the few countries that has Bactrian camels exist. Camels have been domesticated for 5000 years. Herder tribes were formed by the domestication of horses and camels. It is impossible to determine the nomadic culture of Mongolian Gobi region. Today we organize competition "Camel Polo". You can experience nomadic life of camel breeders by visiting local community and riding a Bactrian camel.
• Climb Khongor Sand Dunes Khongor Sand Dunes as known as "Nature's song of sand". Sand dunes make song when you climb. It is very spectacular. Tourists surprise when sand dunes make a singing song. This will be amazing experience to feel nature wonder. • Stay in traditional dwelling ger Ger, also called a yurt by many foreigners. Ger is sturdy, reliable type of tent. This have been the primary style of home in Central Asia, particularly Mongolia for thousands of years. It's easy to build, take between 3 minutes to 3 hours to set up and take down and usually between 5 and 15 people. Stay in traditional dwelling ger and setting up will be interesting activity. • Visit the Gobi Desert nomads About one quarter of Mongolians still live a traditional nomadic life. Traditionally, Mongolia's herders have grazed their livestock by rotating them over shared pasture according to the seasons and the health and availability of the grazing land available. The pastures are divided according to the season—summer, spring/fall, and winter based on the amount of grass and when the grass is sufficient to eat, which is often determined by geography, climate conditions and season. Simply put, herders stay in an area as long as there is enough grass. Nomad tours are one of the most interesting programs of Mongolian tours.
• Explore dinosaur fossils Scientists have discovered 76 dinosaur genera in the foreboding terrain of the Gobi. 70-80 million years ago, the gobi region was a lot of different. Parts of it were covered by forests and lakes. Today paleontologists have found so many incredible fossils. And they are found randomly due to the tourist crowd. You can also find dinosaur fossils while traveling along our tour program. • See the Gobi Desert sunset and sunrise Sunrise and sunsets looks extremely beautiful in Gobi Dessert. You can relax and chill out while sitting on the sands and see beautiful moment alone or with your family. Also you can take amazing pictures too.
Festivals and Events in Gobi Dessert
Camel Festival is one of the unique events. This events includes camel racing, traditional music, dancing and costume competitions. You can ride across the dessert and introduced to unique cultures such as taming two humped camels and play polo at the event. Event continues for two days from 6th to 7th of March.