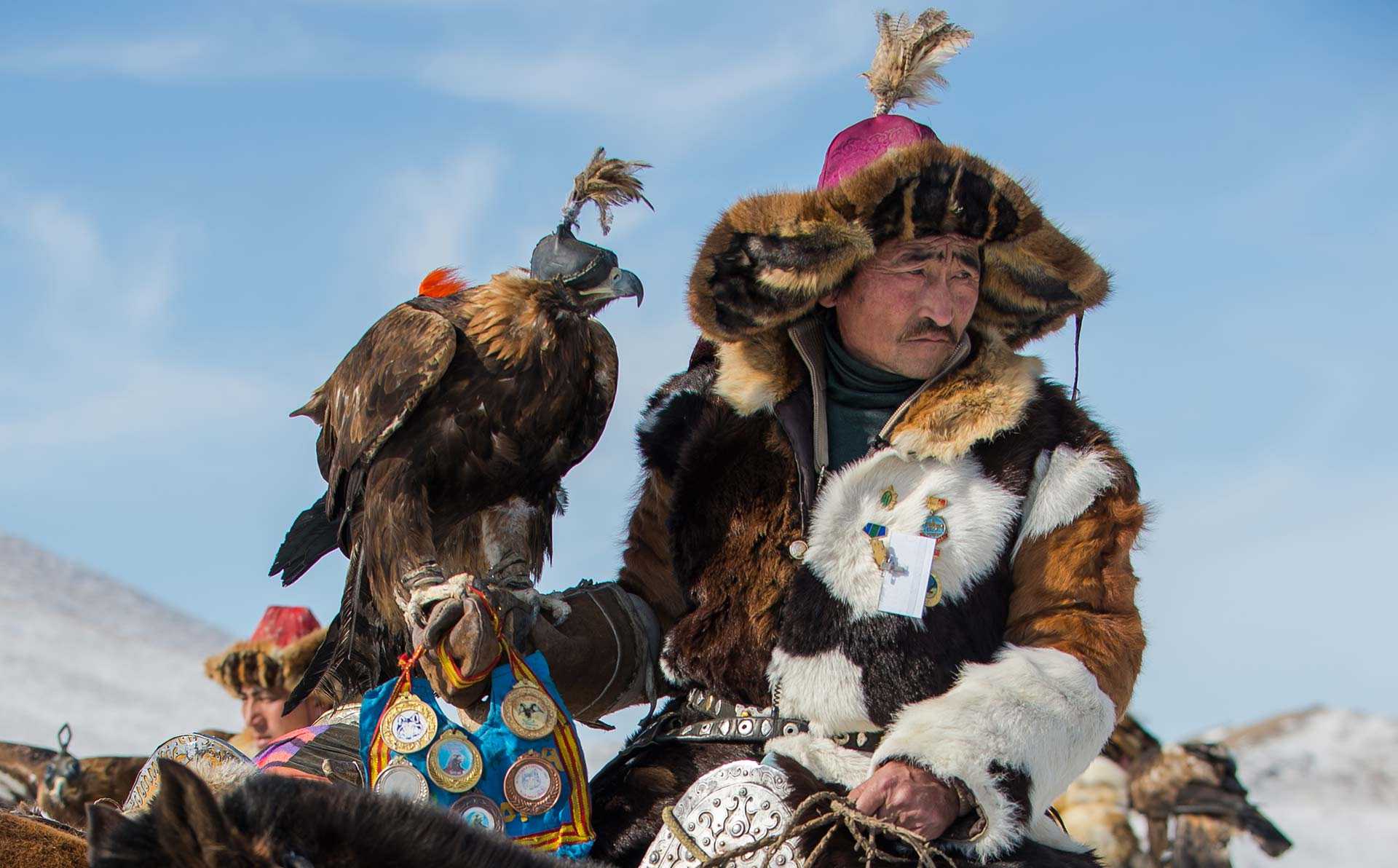 Altai Tavan Bogd National Park
Altai Tavan Bogd National Park was established in 1996 to protect local wildlife and nature. It covers an area of 6,362 sq.km of area that include Khoton, Khurgan and Dayan lakes. In these areas, wild animals such as Argali, Ibex, Foxes and Golden Eagles can be found. Altai Tavan Bogd mountain range, for which the park is names, is the biggest attraction in Western Mongolia.
Potanin glacier
Potanin glacier, lying at the feet of the Altai Tavan Bogd mountains is the largest glacier in Mongolia. It is named after Russian explorer Grigory Potanin; after whose daughter and wife, other two glaciers in the area are named. The glacier can be seen in the distance when visiting the Altai Tavan Bogd's worship ovoo.
Petroglyphs of Tsagaan Salaa – Baga Oigor
The petroglyphs located at Tsagaan Salaa – Baga Oigor in Bayan-Ulgii province are some of the most preserved ones in Mongolia. The petroglyphs stretch a length of 15km with a width of 500m. Estimated 10,000 images depict a history of 8,000 years giving insight into how ancient societies shifted over millennia.
Baga Turgen waterfall
Baga Turgen waterfall is situated in the Turgen mountains located west of the Khoton lake. The unscathed landscape, far from human pollution, is an ideal and breathtaking place for a trek up to the waterfall. Waterfall itself falls from a height of 13m and draws it source from melting glaciers in the mountains above.
Tolbo lake
Tolbo lake is located 45km from the provincial capital, Ulgii town. Surrounded by mix of flat surfaces and hills with a height of 1,000-1,500m, the lake is summertime attraction both for local herders and travelers. The freshwater lake was formed at the ending of the Ice age thousands of years ago. It is also known as site of a battle between Bolshevik army and allied Red army consisting of Mongols and Russians.
Achit lake
Achit is a freshwater lake located in Uvs province, Western Mongolia. Covering an area of 290 sq.km, its depth averages around 10m. Main source of the river comes from the famous Altai Tavan Bogd mountain range in the neighboring Bayan-Ulgii province. It is also home to number of migrating birds and eagles.