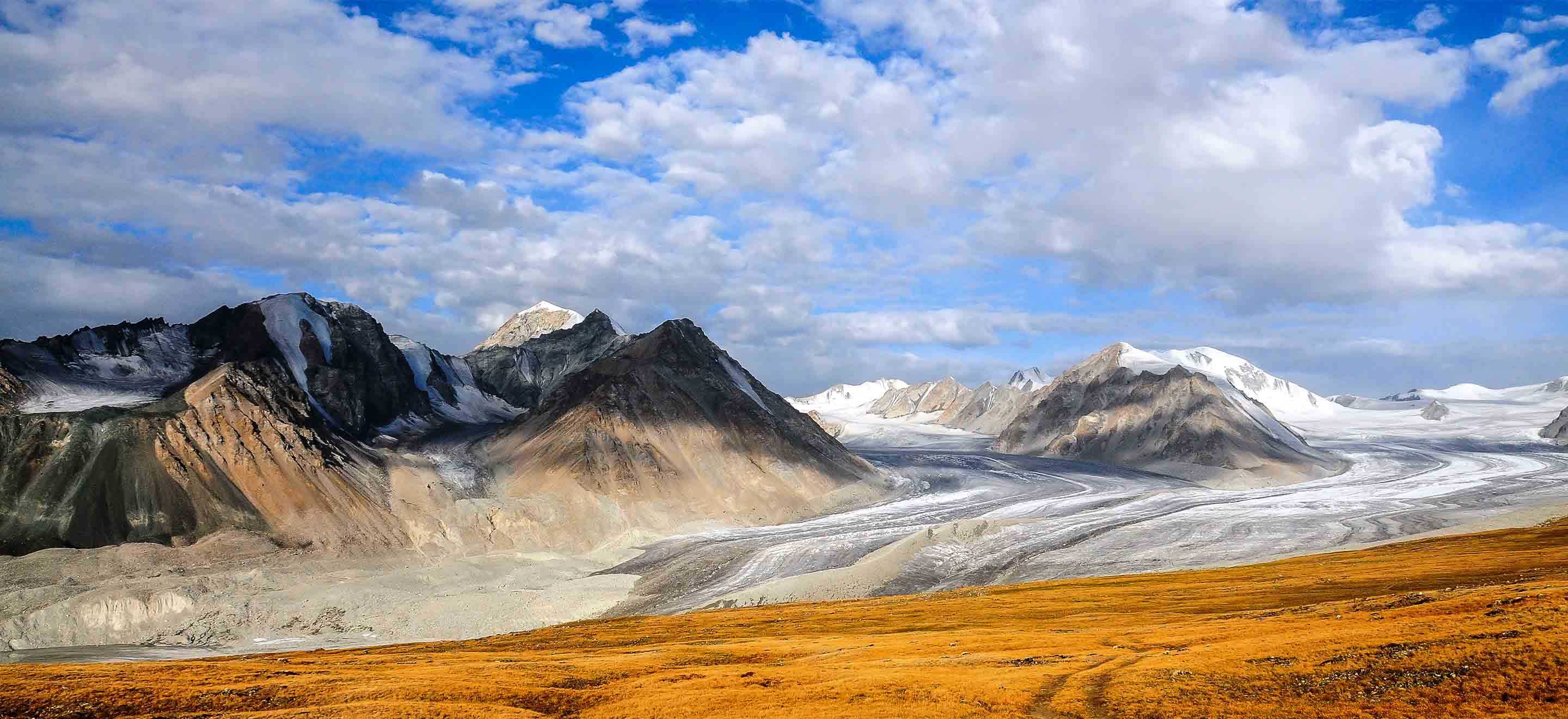 Visit Altai Tavan Bogd national park in Mongolia.
Visit Altai Tavan Bogd national park in Mongolia.
Altai Tavan Bogd (means "The Five Saints") is a massif magnificent mountain located at the most western point of Mongolia. The mountain is near the triple border with China and Russia. The mountain is located mostly in Bayan-Olgii province, but its northern slopes are in Russia`s Altai Republic, and its western part is in China. The mountains are considered sacred mountain to local Tuva and Kazakh people.
Altai Tavan Bogd`s highest peak is Khuiten Peak(Cold Peak) and that`s also Mongolia`s highest point which reaches 4374 meters above sea level. Besides Khuiten Peak, it includes four other peaks Nairamdal Peak(Friendship Peak) 4180 meters, Burged Peak (Eagle Peak) 4068 meters, Malchin Peak (Herder Peak) 4050 meters, Olgii Peak(Craddle Peak) 4050 meters above sea level.
Altai Tavan Bogd National Park consists of 2 regions which are The Tavan Bogd Mountains in the northwest and the Lake region to the southeast. There are 3 large freshwater lakes with beautiful surroundings including Khurgan Lake, Khoton Lake and Dayan Lake. Also, there are full spectrum of archeology with petroglyphs, standing stones, Kazakh cemeteries and ancient burial mounds. Tsagaan Salaa site which contains over 10000 petroglyphs is located along a 15km river valley.
This is the most visited park in western Mongolia with a wide variety of activities. Mountain climbing is the best during summer when the weather is warm. Four of the peaks require mountaineering equipment and experienced mountain climbers, though the shortest, Malchin Peak can be hiked by novices. Also, it`s possible to hike Potanin Glacier near the mountains. Fishing(permitted in the park from mid-June to April), hiking, backcountry skiing (during April and May), horse and camel riding, and whitewater rafting are popular throughout the summer and autumn. The rest of the activities are available throughout the year except mountain climbing and rafting.
The national park has many endangered species inside the park including wild sheep, ibex, wolves, deer, vultures, elk, snow leopards, Altai snowcock, golden eagle, marmots etc…
Seeing once is better than hearing thousand times!
Enjoy and love Mongolia with us...