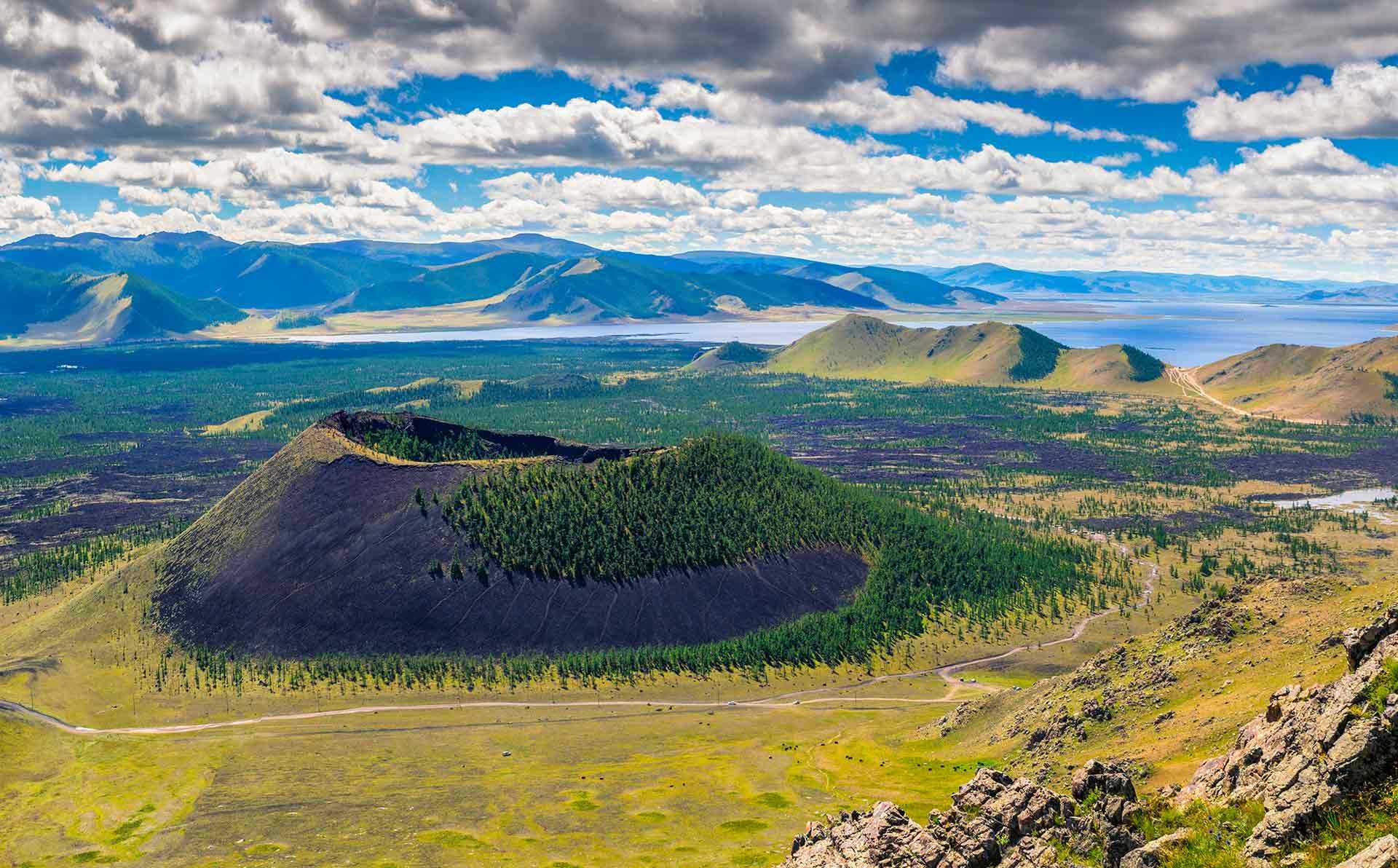 Tsenkher Hot Spring
Tsenkher Hot Springs in Arkhangai province are ideal for anyone looking to relieve a stress from a long road. Its advantageous location in Central Mongolia allows for travelers both from Northern and Southern parts of the country to visit this place during their trips. The waters at the springs can reach a warmth of 86 degrees Celsius. The spring water contains hydro sulfuric acid and silica union.
Khorgo Volcano
Extinct volcano of Khorgo is located inside the Khorgo-Terkhiin Tsagaan Nuur National Park. The volcano is one of the highlights in the area and offers a great trekking exercise which can reward you with a majestic view of the surrounding area.
Terkhiin Tsagaan Nuur
Covering an area of 61 sq.km and having an average depth of 20m, the Terkhiin Tsagaan lake is home to large bodies of fish. These attract numbers of birds who make their nests on the island in the middle of the lake. Coupled with trekking opportunities around the lake and nearby volcano, this place will keep you on your feet all day.
Suvarga Khairkhan mountain
Suvarga Khairkhan is a mountain located along the Khangai Mountain range in Central Mongolia. The Mountain holds a special place in Mongolian culture as it has been worshipped for several hundred years. It is believed that climbing the mountain renews one's fortunes. Suvarga Khairkhan mountain is greatly admired as it serves as a source to number of major rivers in the country.
Bilge Khan complex / Khushuu Tsaidam
Bilge Khan was a ruler of Turkic dynasty that existed in Mongolia between VII and VII centuries CE. Many artifacts from this dynasty were found in the world-famous Orkhon Valley. One of the best-preserved items from this period is the Kultigen Monument which was erected in honor of Bilge Khan's brother. It can be observed at the Bilge Khan complex in Arkhangai province.