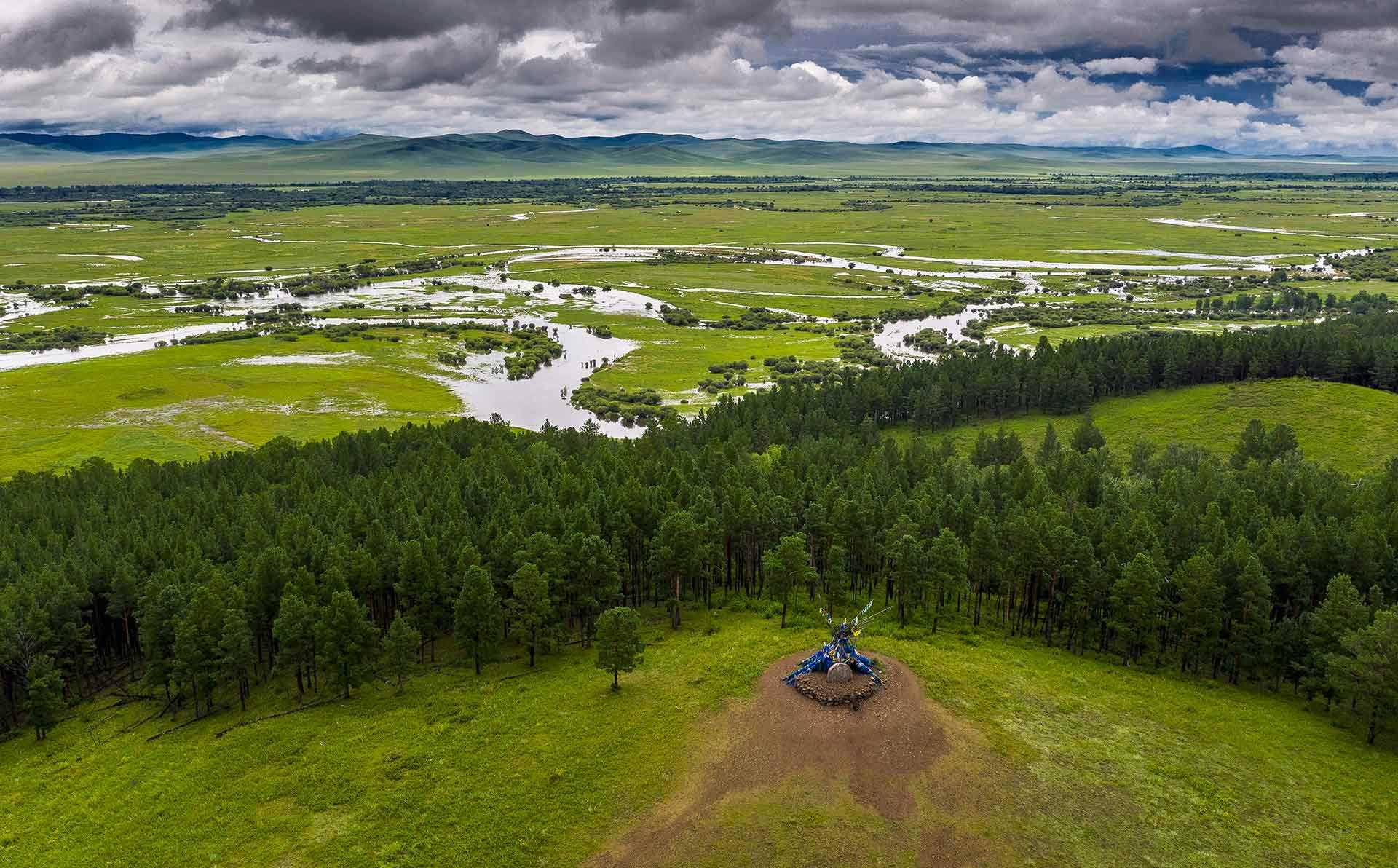 Burkhan Khaldun Mountain
Burkhan Khaldun, located in Khentii province, is one of the most beloved landmarks among Mongolians. It has been widely revered since the times of Chinggis Khaan who himself worshipped the Burkhan Khaldun Mountain. Once when he was defeated, Chinggis Khaan took refuge amongst the hills of this mountain and prayed to it for greatness. Since then, it has been always worshipped and remains a site of pilgrimage.
Baldan Bereeven Monastery
Baldan Bereeven Monastery is located in Khentii province. Established in 1654, at its highest point, it was home to 8,000 monks. Much of the monastic grounds were destroyed in 1937 and fell into decay. As of today, three main temples have been restored with remains of 50 temples and stupas surrounding the area. Small density of people throughout XX century have helped this place keep its natural beauty.
Chinggis Khaan monument
Chinggis Khaan monument was erected in Dadal soum of Khentii province in 1962 in celebration of Chinggis Khaan's 800th birthday. Standing at a heigh of 12m, the statue is 4 meters wide. It features an image of Chinggis standing in a kingly manner. The monument has inscription written on it in old Mongolian alphabet saying "My body may break if it must, but never let my state break".
Deluun Boldog
Deluun Boldog is an attraction in Dadal soum, Khentii province. It is believed that Chinggis Khaan was born here in 1162 at the banks of Onon river.
Khar Zurkhnii Khukh lake
Khar Zurkhnii Khukh Lake is located roughly 220km from the capital. Its name can be roughly translated as "Blue lake of the Black Heart Mountain". Black heart mountain lies on the opposing shores of the lake from where visitors camp. The spot is historically significant as this is where Chinggis Khaan (Temujin at the time) was elevated to a title of Khan in 1189.
Khuduu Aral
Khuduu Aral is a fairly wide step located in Khentii province. The 30km long, 20km wide steppes here were locations of Ikh Khuraldais during which some of the Great Khans of Mongol Empire were elected. There are also ruins of an old Mongolian city, Aurag. In 1990, 4m tall monument was erected for 750th anniversary of "Secret History of the Mongols"; a book which serves as a primary source on Mongolian history
Xiongnu tombs at Duurlig Nars
Duurlig Nars is a pine forest situated 500m south of Onon river in Khentii province. There are approximately 300 tombs of Xiongnu nobility who ruled the steppes of modern-day Mongolia over 2000 years ago. Discovered in 1974, it is the largest of its kind in Eastern Mongolia.
14 Days 13 Nights
1-8
6 Days 5 Nights
1-8